primary
@  P I O N E E R S  P A R K
Our cafe in Berwick Village is a relaxed, casual, fully licensed dining venue in beautiful Pioneers Park.
We are open 7 days and offer quality food and drinks served by welcoming, friendly staff. Bookings or walk in customers are equally welcome. In the colder weather we have a fireplace to keep you warm and in the nicer months we have a large outdoor deck to enjoy the view over the park and adjacent children's playground. Our expansive outdoor deck area is fully weather protected with heating and offers comfortable dining all year round. In the evenings, we operate as a function venue.
2022 'National Casual Dining of the Year'
WINNER 
2022 'National Cafe Dining'
WINNER
2022 Victoria/Tasmania 'Casual Dining of the Year' and 'Cafe Dining' 
WINNER
Bookings and walk in customers are equally welcome.
Our menu is available as takeaway and can be ordered online or in store!
Check out our seasonal menu and weekly specials.
Primary@Pioneers Park, with its beautiful historic building and park setting, is the ideal venue for your birthday, wedding, engagement, anniversary or corporate function. We customise the event to suit your budget and food and drink requirements.
Sharp and full bodied, Happy Days offers a smooth and rounded profile featuring cacao and rich dark chocolate aromas complemented by luscious chocolate flavours and a subtle acidity.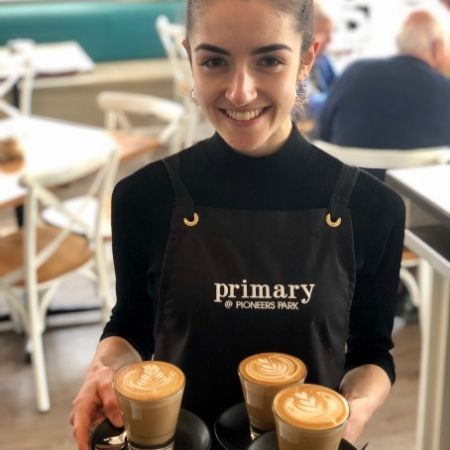 Our baristas have a passion for great coffee and pay attention to the smallest details to ensure you have the best coffee experience.
Dine-in and takeaway coffee available!
A word from our customers…
"Thank you so much for having us and making our dream engagement party come to life. Nathan and I are beyond happy. Primary@Pioneers Park is so so precious to us and has been our special brunch spot since we celebrated our one year anniversary. Almost 5 years later and we still love coming in on weekends for the best brunch and the most friendly staff. It was so sentimental for us to have it here. Lindy, thank you and everyone so much."
Sara and Nathan, Engagement
"Rob and I want to thank you so much for making our special day such a wonderful occasion. Everyone that attended was raving for days (and  talk about it all even now) about the fabulous food, venue and service… Thank you again Lindy for absolutely everything. We will certainly be using your venue for other functions."
Margot, Wedding Reception
"Thanks for hosting our wedding last month. We had a great time and the staff were so attentive… We have had nothing but positive feedback about the look and feel of the venue, the service and best of all the food… I really can't recommend Primary@Pioneers Park enough. I know a couple of other people are now thinking about using it for events. We are already planning our 40th there, hope you guys are still there in 10 years but I am sure you will be."
Lauren, Wedding Reception
"Thanks so much for the amazing job you did for us. From the food to the service, to the amazing setup, it was everything we wanted and so much more. You made our night so fantastic! We did not need to worry about a thing but could relax and enjoy ourselves. All of our friends had only praise for you guys. We will be lifelong customers and fans of yours. We really cannot thank you enough for making our wedding reception perfect in every way."
Lindsay and Matt, Wedding Reception